Visit Stratford-Upon-Avon, Shakespeare's Birthplace and a Great Family Day Out
Stratford-Upon-Avon is a market town located in the heart of Shakespeare Country. Housing a population of approximately 29,000, the town boasts some fabulous traditional English pubs, many Shakespearean themed cafes, Stratford Racecourse, and the Royal Shakespeare Theatre.
While crowds of tourists flock to visit Shakespeare's Birthplace and the theater, there is much more to be seen and experienced in Stratford.
During the spring, summer and autumn months, there are many street entertainers and festivals held in the park and beside the River Avon. Stratford River Festival has become an extremely popular, free-entry event and will be held on the 6th and 7th of July 2019. Historically, the park hosts a fantastic mixture of musicians, dancers, and pop-up stores during the course of the festival.
Another attractive alternative to the Shakespearean museums is the Stratford Butterfly Farm. This farm is the UK's largest tropical butterfly paradise and is home to a huge range of insect and animal species. A big hit with families, visits to this great display are always popular with children.
As well as offering a variety of entertainment, Stratford-Upon-Avon is also home to four schools, King Edward VI School for boys and Stratford Girl's Grammar School, Stratford-Upon-Avon High School and Stratford-Upon-Avon College.
The History of Stratford-Upon-Avon
Stratford-Upon-Avon is said to have been founded in the 7th century AD by the Saxons. It was a small village for many centuries, until finally in the 12th century it evolved into a town.
Having been granted King Richard I's permission to hold weekly markets, the town quickly attracted more inhabitants, as craftsman moved to Stratford to sell their various services. Soon, Stratford town had their own farriers, bakers, butchers, and carpenters.
Progressing towards the Tudor century, King Edward VI founded King Edward VI Grammar school in 1564. It is assumed that William Shakespeare would have attended this school, given that his father was a middle-class citizen. You can read more about Shakespeare here.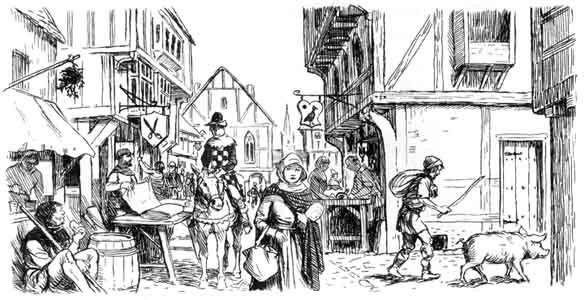 Between 1700-1800, Stratford stayed much the same, remaining a quiet market town. This soon changed, as the turn of the 19th century introduced a more modern infrastructure, with sewer systems, canals, and a railway station.
Following this stage of development, the influx of tourists began! The development of transport systems made Stratford much more accessible, and the town continues to prosper thanks to its popularity with tourists.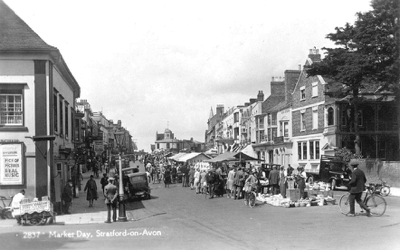 Things to See and Do in Stratford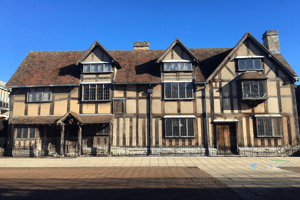 Shakespeare's Birthplace
William Shakespeare was born in a house on Henley Street in 1564, and this house has been preserved and treasured by the Shakespeare Birthplace Trust. Walk in his footsteps, hear tales of his upbringing and enjoy live theatre during your visit.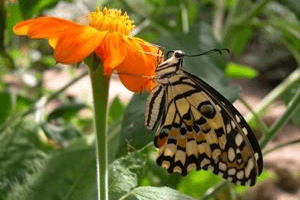 Stratford Butterfly Farm
See hundreds of species of insects and animals, just a stone's throw from Stratford's other attractions. Sat on the edge of the town center, Stratford Butterfly Farm is conveniently located if you want to coincide your visit with a trip into town.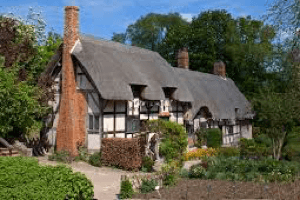 Anne Hathaway's Cottage
Explore the home where Shakespeare learned about love and courted his future wife. Features some original furniture pieces that have been handed down 13 generations.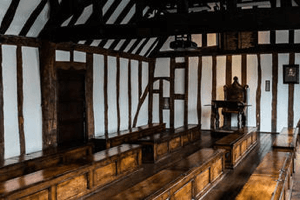 Explore the schoolroom where the world's greatest playwright began education. Learn how he became inspired to write plays and the kinds of lessons that he attended.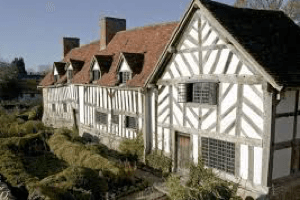 Mary Arden's Farm
Discover the childhood home of Mary Arden, Shakespeare's mother. A traditional, working Tudor farm, this experience is enjoyable and insightful for all ages.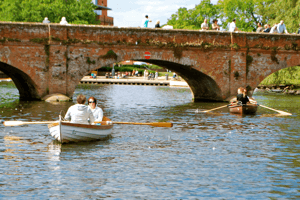 Stratford Park and The River Avon
Row or motor along the River Avon, capturing stunning views of the park, historic architecture and wildlife.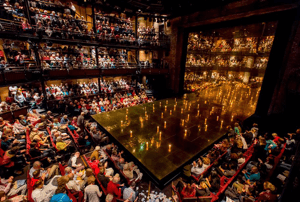 The Royal Shakespeare Theatre
See everything from where the sets, costumes, and props are designed and built to where the plays are rehearsed and performed. Even better, go and see one of the fantastic performances!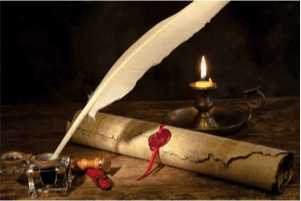 Tudor World
A centrally located museum in Stratford-Upon-Avon, this interactive experience allows you to truly live life in a Tudorian person's shoes. In the evening, the museum offers a ghost tour by candlelight!